Paper Engineering / Information design
Digi
talien
How digitalisation influences us –
A critical reflection made of paper
We are spied on, hacked, our photos get stolen and shared without our consent, our most private matters are turned into public knowledge. Nothing is really "safe". We know about these issues. But on the average day, we do not think much about how immensely the digital world dictates our lives. As a countermeasure, in "Digitalien" you find ten variations of paper pop-ups which look critically into the digitalisation. They tackle the topic through the visualisation of data and facts in two as well as three dimensions. Topics are the history of digitalisation, its influence on our everyday lives, porn, internet addiction and many more controversies, oddities and interesting aspects. In our time of dwindling attention spans, the analogue moving format of paper pop-ups is a breath of fresh air for the smartphone junkie. The book invites even people alienated by books to flip through the pages again and again.
Used skills
Information Design
Paper Engineering
Editorial Design
Infographics
Videography
Typography
Bookmaking
Algebra and Geometry
Copywriting
A closer look: Circuit board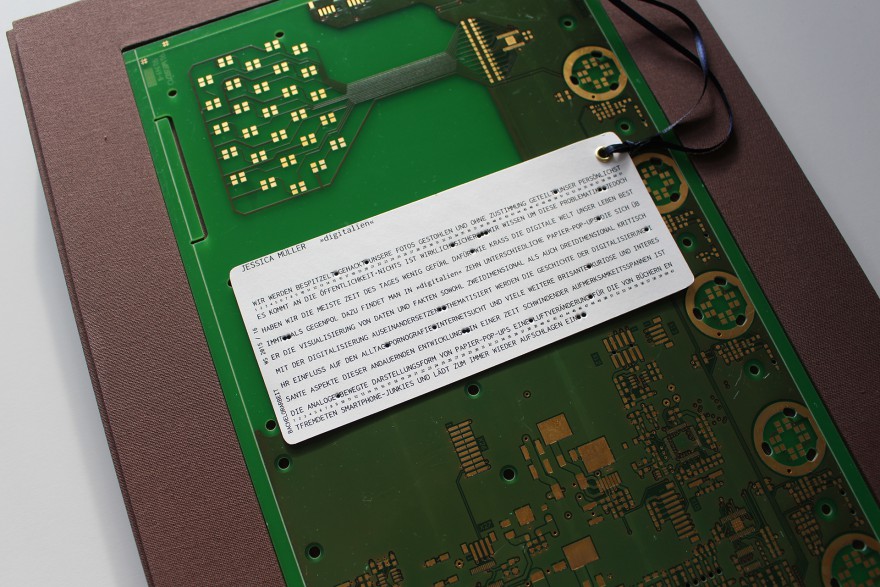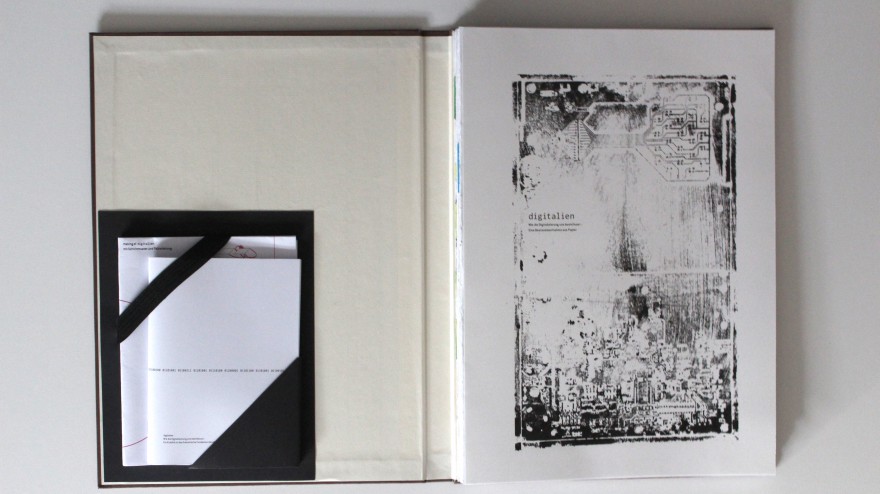 The handmade book jacket displays inlays of circuit boards. Author, title and blurb are written on a punchcard attached to the book cover. For the half-title, said circuit board was used as a printing plate to create a printed visual resembling the book jacket. Left of the main block, there is a holding compartment for the theoretical part of the thesis as well as a poster with folding patterns for some of the pop-ups.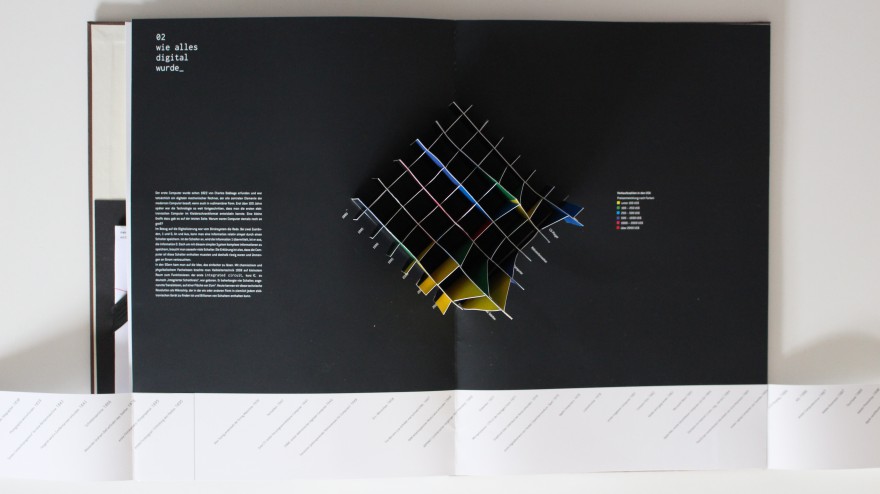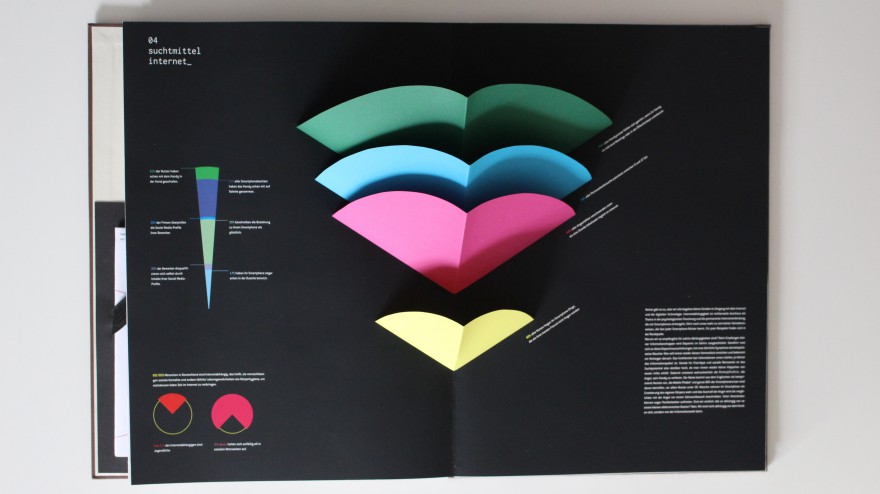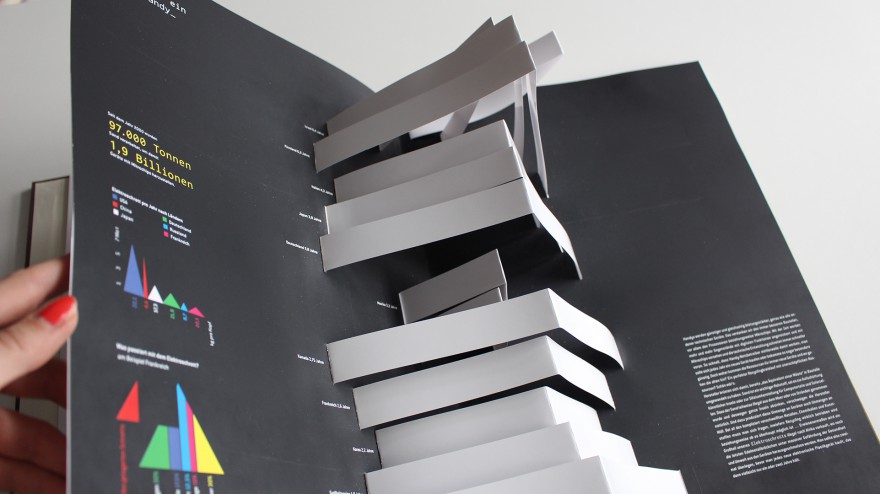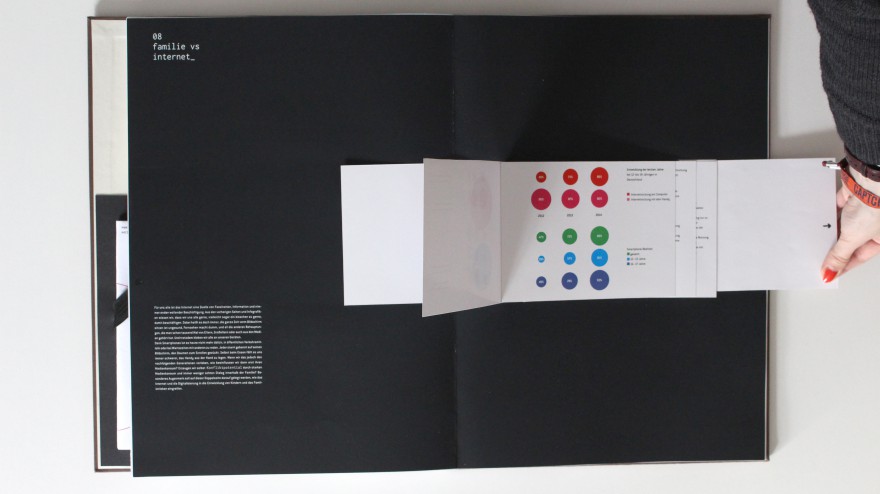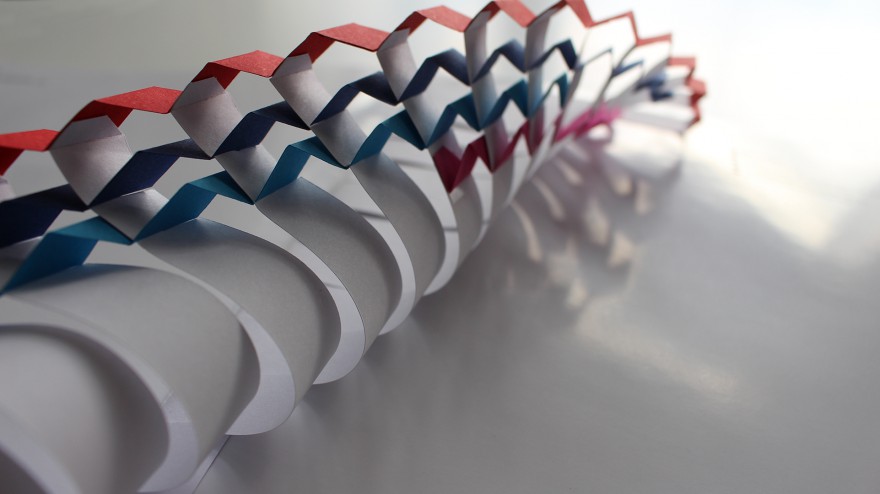 During my design studies, I fell in love with information design. Good visualisation is key in order to make the user understand whatever information you are trying to convey. So a good information design has to be engaging, easy to grasp and fun while still being informative. Wired even has a tag called infoporn because that's how good information design should feel.
Fascinated by the medium of paper pop-ups since High School, I found it wasteful that pop-up books are usually for children. I wanted to make a pop-up book for adults which tackles sociocritical topics. So why not use pop-ups, the "visual porn" of books, to accomplish this?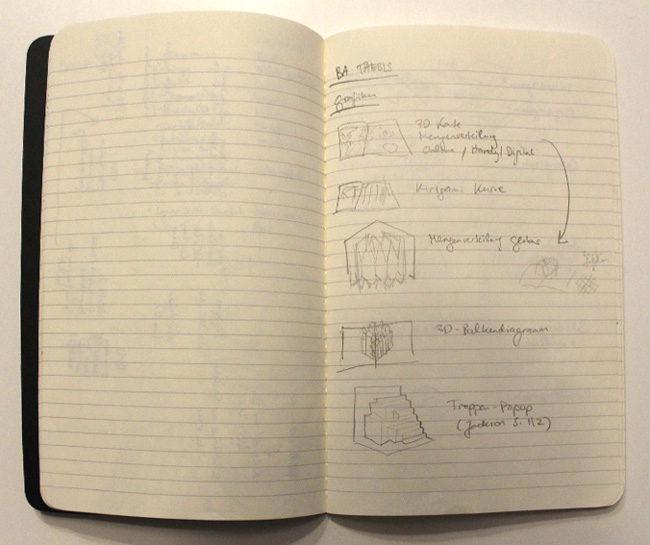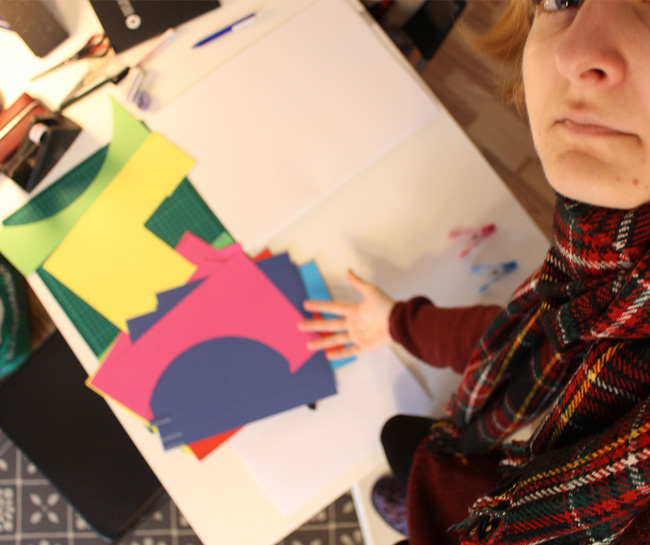 I have always been interested in digital media, so I chose the digitalisation as a theme. After thorough research – at the time, Google provided 104 million results for the keywords "internet usage statistics" –, I planned which information and topics to use and how to visualise them. I researched information and pop-up techniques simultaneously in order to find the best possible matches.
Finding the right information and data as well as the right pop-up technique was but a piece of cake compared to actually building the pop-ups. Over the span of 4 months working on the thesis, I built 84 dummy pages to test the mechanisms and find the right angles and sizes for the paper bits.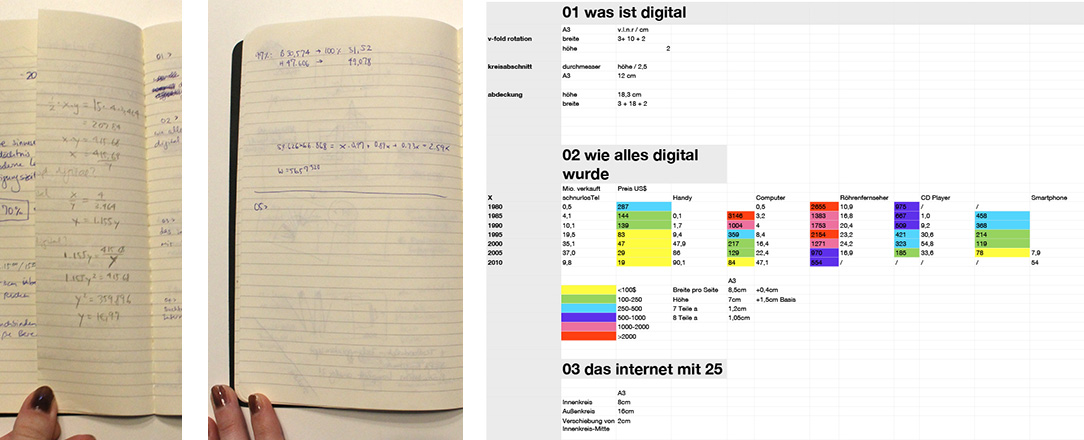 It was important to me that the pop-ups not only look good but also accurately visualise the data in the right proportions. So I ended up using a lot of mathematics: Pythagorean theorem, angulation with sin/cos/tan, equations with one or two unknowns, as well as calculations of radii, arcs and areas.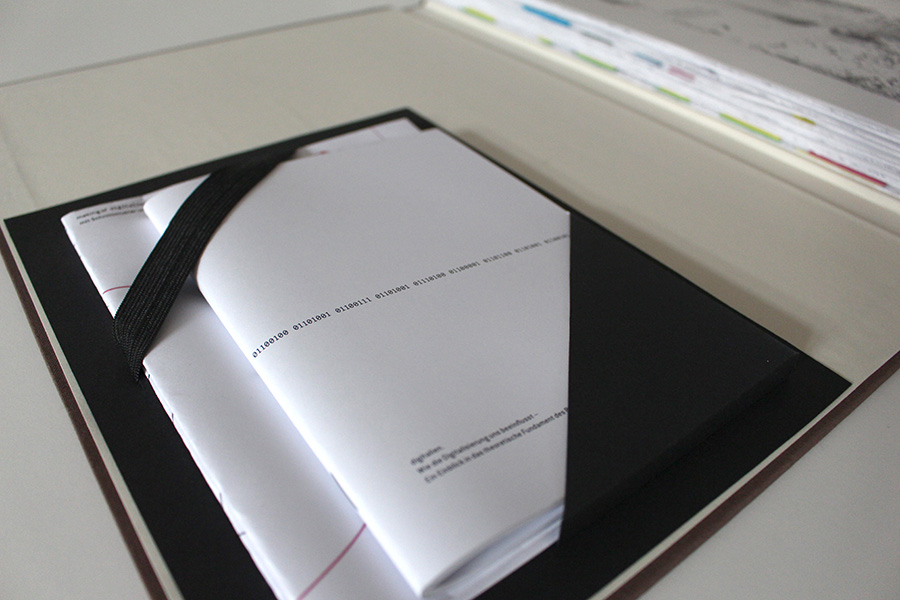 With the finalised book, I included an inlet with a poster containing some of the pop-up patterns and some statistics about the making of the book (see below). Furthermore, I added a theory booklet with 9259 words of theoretical foundation.
Download theory booklet (German only)
German Design Award 2016
Nominee
Werkschau Mannheim 2016
Exhibit at the yearly Communication Design exhibit of the Mannheim University of Applied Sciences
Haven't had enough?
Then check out my other pop-up book.
Würfeln
A constructivist fairy tale inspired by Kazimir Malevich.
Created in 2009, when I was still a high-school student with a cheap webcam.